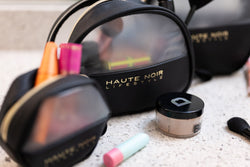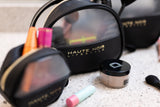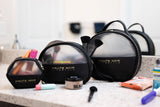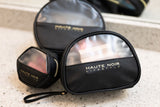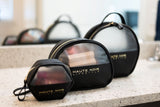 Introducing Haute Noir Lifestyle

3-piece Frosted Waterproof Makeup Holder Set – the ultimate solution for keeping your cosmetics organized, protected, and accessible. These transparent toiletry pouches are designed to captivate with both their functionality and style.

Crafted from high-quality, frosted waterproof material, these cosmetic bags are not only visually appealing but also highly durable. The frosted finish adds a touch of elegance while ensuring that your makeup stays safe from spills and moisture.

The set includes three versatile sizes, catering to all your cosmetic storage needs. From compact essentials to larger beauty must-haves, these pouches have you covered. Their transparent design allows you to easily identify your items, saving you time during your beauty routine.

Featuring sturdy, reliable zippers and reinforced stitching, these bags are built to withstand daily use and travel. The compact yet roomy design makes them ideal for your purse, gym bag, or suitcase.

Our 3-piece Frosted Waterproof Makeup Holder Set is not just practical; it's a fashion statement. The minimalist, modern design pairs seamlessly with any style, making these pouches a perfect addition to your accessory collection.

Say goodbye to disorganized makeup and hello to effortless beauty. Elevate your cosmetic storage game with these elegant and functional pouches – your beauty routine will thank you. Make them yours today and experience the difference!